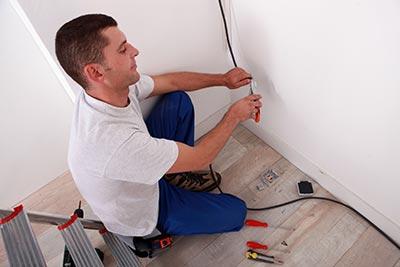 When many people think of IT companies, they envision a group of geeks holed up in a basement somewhere far away, answering phone calls from stressed business owners with downed networks and security breaches. While this might be true of some IT companies, IT Horizons seeks to offer clients a different kind of experience, something a little more touchy feely, with outstanding support and services that are tailored to clients' technological needs.
So, because it's construction season in these parts, it seems fitting to talk a bit about one of the truly hands-on services we provide for those building new homes and commercial spaces - cabling and physical installations.
When you work with an IT consultant to design the tech set-up for your space, challenges posed by physical environments and unique needs can be overcome efficiently and cost-effectively. Whether they need us to install security systems, power management systems like backup generators or environmental controls for air conditioning and air filtration systems, our technicians apply their years of experience and training to design and install set-ups that best satisfy our clients' requirements.
While commercial spaces will also benefit from properly installed security systems and environmental controls, many businesses require specific systems to facilitate their workflow and optimize productivity. Our team regularly installs wireless access points, structured cabling, server racks and/or closets, network infrastructure devices and more for businesses throughout northern Alberta and B.C. We also do network and phone certification and are now providing fibre installation, termination and splicing services.
If you're looking for a team of qualified technicians to design and install a smart tech solution for your new space, get in touch with us for more information on our cabling and installation services. Choosing to work with IT Horizons not only ensures that you will be equipped with thoughtfully applied technology that really goes to work for your business now and in the future, but that you will receive the ongoing support you or your business require to get the most out of your tech systems.