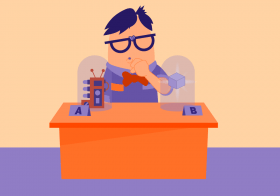 We all rely on tech to help run our business, and it's great when it's running smoothly, but it can be horrible and expensive when it isn't. Hiring the right tech company to look after your technology will keep your systems functioning effortlessly, and can make the difference between just surviving and powering ahead in full growth mode!
What to look for:
A good IT firm will start by having a consultant sit down with your leadership team to listen and learn all about your business before recommending anything.
They should provide unlimited computer support to you and your staff for a fixed monthly fee.
A technology strategy plan will be offered and created for your business, with at least one year planned.
Every business is different and has different technological needs. A custom tech solution is part of every successful business.
Experience! Hire an IT company that has experience managing company networks, security, email, Microsoft products, backups, and much more!
Ask for referrals from some of their current customers.
Every good recommendation will include a robust backup solution. Backups are crucial, and a business can not afford to learn this the hard way by losing all of their (and their client's) data. No, saving your files to a USB stick or in Dropbox does not count as a backup solution!
What to avoid:
Don't take risky shortcuts! It can end up costing you a lot more in the long run.
Don't work with a tech that recommends installing black market software.
Combining roles, such as having your office admin doubling up as tech support, can stress out your staff, and chances are they already have their hands full. Plus, if they are not a trained IT professional, they will waste a bunch of time researching and trying to figure out how to fix issues rather then getting their job done.
If you have a full timer on tech support, but he or she is reluctant to tell you exactly what they are up too, or can't explain it in simple terms, perhaps it's time to consider an outsourced technology solution.
When that know-it-all tech tells you to throw out your current equipment, or format your hard drives, be sure to get a second opinion!
When someone continually talks in a tech language that you only slightly understand, move along.
It takes an experienced computer technician a fraction of the time to fix issues versus doing it yourself or asking staff to look into it.
Working with an experienced technology company has many benefits. By having a tech road map for your company, you'll know and understand how tech helps with growing your business. It will give your employees the tools and support they need to do their job – and they will thank you for it! Systemizing can save a lot of time and headaches, and backups can completely save your businesses! Let's not forget the solid email solution that will make sure your business does not miss out on opportunities and important information from your customers and vendors.