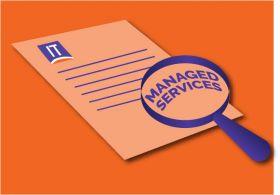 In the 21st century, technology rules. There's no way to get around it, or away from it, regardless of the industry you're in, or the size of your business. But, just how important is technology to businesses today, and how are they addressing their technology needs? Clutch wanted to find out, so they conducted a survey of more than 400 small businesses to glean their insights.
The results support what we already knew: demand for IT services is on the rise, with more companies both hiring more IT support internally and turning to outside vendors and contractors to help meet their needs. Most (69 percent) of small and medium businesses (SMBs) have hired at least one type of IT service provider. And, momentum is continuing to build; 39 percent of SMBs plan to boost their spending on IT services in 2016.
The market is moving to more of a managed services model, which offers mutual benefit to both the companies and their service providers. As Andrew Tejero, VP Operations for IT Horizons told Clutch:
There is one distinguishing benefit to managed services, for both the client and provider, and that's the incentive to be proactive versus reactive. We make more money if stuff works without us having to fix it, and the client benefits from the increase in uptime and decrease in outages.
This growth in the need—and demand—for IT services is not without some growing pains, of course. The study also took a look at the challenges that IT service providers face as they attempt to provide exceptional service to their clients. Tejero has "been there/done that." One of the ways his firm has been able to address these challenges is through partnerships with other third-party services firms.
An IT service provider has the means to fix a computer directly, but might need to escalate to third parties for Cloud, Server or Hardware and Software, Tejero points out. Failures anywhere down the escalation pipeline can affect the satisfaction of the whole experience. By increasing communication throughout the escalation process we've found that this alleviates client concerns.
It's a win-win-win approach that can benefit all. Collaboration is the name of the game in today's fast-paced, and quickly changing technology environment. IT Horizons has positioned itself well to address, and overcome, these challenges.
IT Horizons was honored to be interviewed for Clutch's 2016 Small Business IT survey. Visit Clutch to learn more about how small businesses are working with IT service providers in 2016.