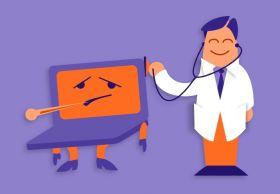 No matter how you cut it, taking preventative measures will always save you time and money, not to mention hassle. Nothing could be more true when it comes to IT, and yet, many companies continue to rely on a break/fix approach that often leads to delays, stress and potentially costly repair bills.
Today's post is the last in our mini-series on managed IT services. If you haven't had the chance to read the previous posts, be sure to check them out. You could discover that this is the solution your business needs to save money and work smarter.
Now, we've been talking about the many ways businesses benefit from entrusting our qualified team to perform the ongoing maintenance, monitoring and upgrades that are required to keep assets in top form. We've also described how we provide everything from strategic planning and consulting to technical support, data management and more - everything you need for peace of mind when it comes to your IT environment. When you put it all together, managed IT services are the preventative measures that ensure your business' operations continue without a hitch, no matter what's going on or how your operations change, over time.
Here's a little comparison of the break/fix approach versus managed IT services:
Break/Fix Approach:
When something breaks, businesses panic and call for help because their systems are down
An IT tech will diagnose and fix the issue, charging by the hour - costs are unpredictable
Longer downtimes often result from the break/fix approach
Internal staff can sometimes fix minor IT issues, however, this takes them away from their jobs and only IT pros know how everything should be set up
Backups might not be running and data or email loss can cause major problems for a business
Managed IT Services:
Proactive approach for monitoring and performing preventative care for all assets
Identify potential threats and solve problems before operations are disrupted, which can save days of down time
IT professionals who stay up to date with the latest trends and software, as well as best practices for maximizing efficiency
Contact our IT support as often as you need, 24/7, without worrying how much it will cost - total peace of mind
So there you have it, when choosing between IT solutions or approaches, ask yourself just how much productivity your business can afford to lose when systems go down. If the answer is zero or as little as possible, fully managed services will provide the confidence you need.
Invest in the ultimate IT solution, a solution that provides total peace of mind, cost-savings and the robust IT environment your business needs to be more effective and efficient. Get in touch with us now to learn more!