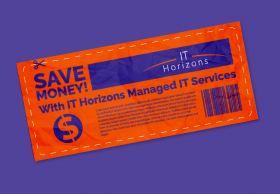 If you've lost sleep worrying about the technology your business relies on, you're not alone. When a system goes down or security is breached, getting the situation sorted as quickly as possible can be stressful, not to mention costly. For many companies, the solution has been to employ in-house IT support, but as more and more organizations are discovering, the peace of mind that in-house IT affords doesn't always balance the cost of having one or several full-time IT people on the payroll.
Some businesses want the peace of mind and someone to perform the updates and monitoring but just can't or don't want to pay a full-time salary. In some cases, internal IT departments spend so much time sorting issues that there's little time left to devote to keeping their skills and knowledge up to date with current best practices.
The solution is managed IT services, and this post is the first in a four part series that will describe the many advantages of managed services over internal IT staff. Today I'm talking money, because let's face it, reducing overhead expenses is the goal of every business, everywhere.
Cost Benefits of Managed IT Services
To put it simply, you can benefit from the knowledge and skills of an entire IT department for less than the price of a single, junior employee, when you choose managed IT services. And, don't forget, one less permanent employee also means one less person to pay health benefits and other employee-related expenses.
Always Know Your IT Expenses
When you choose managed services over a break/fix approach, you're taking preventative measures that can, and most assuredly will, save your business money. I'll talk about managed services versus a break/fix approach in greater detail in a future post, but today our focus is on the cost savings. With managed services, you're paying set fees for the management and maintenance your systems require to stay effective. What's even better is that the services you pay for can be scaled to suit your business' changing needs. With 24/7 access to IT support, as well, this is the best way to avoid the system breakdowns that can leave you scrambling and with potentially expensive repair bills. If you don't like surprises and prefer to have a set IT budget each month, managed services are the way to go!
Saving money is undoubtedly one of the biggest benefits to choosing managed IT solutions, but there are several other reasons this proactive IT approach is increasingly becoming the method of choice for small and mid-sized businesses everywhere. Stay tuned for future posts where I'll describe some of the other ways that managed services from IT Horizons will add value to your business.
Had you at cost-savings? Give us a call to learn more about how your business will benefit!