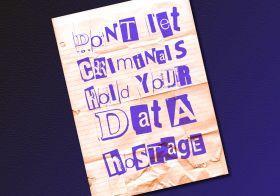 You've probably heard of Cryptolocker. It's the nefarious ransomware trojan targeting Microsoft Windows that made the rounds via email starting in 2013-2014 that locked businesses out of their own files by encrypting them and holding them hostage. It impacted many – including Grande Prairie organizations that you know and may do business with!
Cryptolocker and its many ransomware cousins act like typical viruses in the way they're spread and distributed. But what makes ransomware so dangerous to you and your business is the fact that it specifically targets corporate data for monetary gain and the results can be catastrophic for those whose network is unprepared and inadequately protected from such an attack.
Ransomware works by encrypting and locking you out of the files on your computers, server, and network storage. These files could include your policies and procedures, sensitive contracts and agreements, or your accounting database and financials. The attackers then demand payment in order to release and decrypt the files. Security experts agree that there is no realistic way to get your files decrypted other than paying the cyber-criminals off.
Such data loss can easily break a business and cost you thousands if not tens of thousands of dollars in damages.
So what can you do to protect yourself? It's simple! Work with IT Horizons and we'll manage your network proactively with IT Managed Services. We'll ensure your business is hardened with the right security, antivirus, monitoring, and data backup protection to ensure that you're protected and in the unlikely event that your data is compromised we can respond rapidly and get you back up and running with minimal time and effort and little or no data loss. And you won't have to pay the hacker scumbags a dime.
For peace of mind and security solutions you can count on, reach out to us today at 780-833-2566