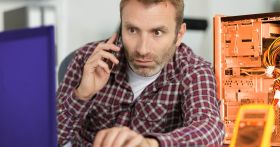 Here are some things our team does for our IT Managed Services clients in an average week!
IT Things We Do: VPN Issues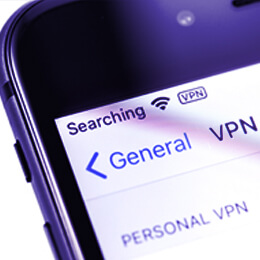 For some businesses, a Virtual Private Network (VPN) is essential for conducting business securely. But VPNs can run into trouble with things like connection problems, authentication issues, latency issues, and more.
We're able to address these issues quickly and get things back up and running securely.
IT Things We Do: Installing Networking Equipment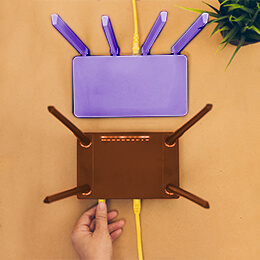 The networking equipment (router, firewall, switch, wireless access point) allows a business to connect all their devices (computers, tablets, phones, etc) to a single point (the internet). The equipment we recommend makes it easier to control and monitor all devices, and allows for creating automated tasks.
When our team installs devices, we take care of ensuring everything is securely connected, and the business owner is fully able to use the features they need.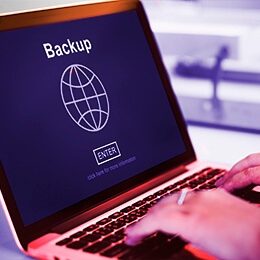 IT Things We Do: Ensure Backups are Fully Functioning
Probably all of us have a core memory of completely losing content we've been working on for a long time. Anything from a college essay that vanishes to a business plan that suddenly has nothing more than a title.
For businesses, backups need to be fully functioning. A loss can do a lot of damage, especially when customer relationships and contracts are at stake.
So, our backup support includes installing security patches, updating software, setting up data backups, and troubleshooting technical issues. All this makes sure your backups do their job and your business never suffers a catastrophic loss.
Our backup includes nightly copies of all important data offsite in case of a disaster. In a disaster type scenario (fire, flood, theft, equipment malfunction), we can recover your data into our private cloud or into a temporary solution that fits your business so that you can access what you need. Your data is also stored in our private cloud hosted locally in Edmonton. You don't need to rely on a public cloud. Rather, we ensure your data is safe with state-of-the-art technology that we manage.
IT Things We Do: Replacing Dead Hard Drives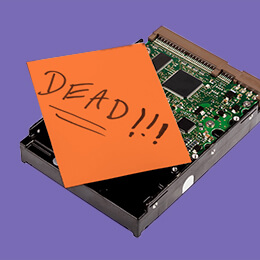 Did you know that hard drives can die? Things like physical damage, electrical damage, overheating, or even a manufacturing defect can damage or destroy a hard drive.
This is a big problem for a business. It can cause the loss of data and information, which almost always means a loss of productivity and money. When a hard drive is down, an entire business can grind to a halt—and once it's replaced, data still needs to be recovered or replaced.
We take prompt action when there's a hard drive problem for one of our clients. And we're always happy to get things up and running as soon as possible, with as little impact to the business as possible.
IT Things We Do: Complete UPS Swaps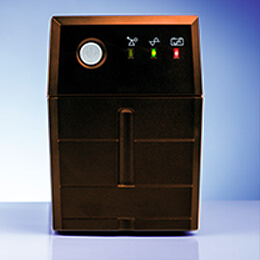 No, we're not talking about package delivery! In IT, an uninterruptible power supply (UPS) is a device that provides a backup power source for your essential hardware. Businesses need them for their computers, networking equipment, and other devices so that data loss and hardware damage doesn't happen when there's a power outage.
A UPS also protects from power surges and brownouts. So, our team completes UPS swaps when it's time to upgrade to a newer model. This process generally involves disconnecting the old UPS, connecting the new UPS, and configuring it for the specific environment.
We also service UPS units with replacement batteries which need to be replaced every 4 years. Have you checked if your UPS are working properly? Once per month we check to make sure a UPS will work properly during a power outage.
IT Things We Do: Quote Hardware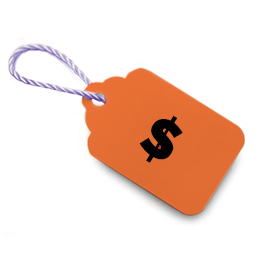 Is it time to expand or upgrade, and you're dreading the process of figuring out what you need? We can help with that! We'll come to your business, review what you have and what you need, and then quote on things like:
Servers and storage solutions
Networking equipment
Workstations, laptops and upgrades
Printers
Monitors
Office 365
Cloud Servers (private or public)
We also provide full project management services. So, when you've got a big job, we can handle all the IT sourcing and installation for you!
IT Things We Do: Cybersecurity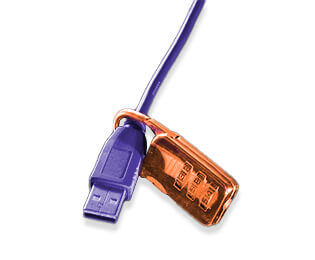 Cybersecurity training is really important. It helps your employees understand the risks involved with the technology they use, it helps protect your business from cyber threats, and it teaches what to do if there's a security breach.
Another important aspect of cybersecurity is Cybersecurity Insurance. We can help audit a company to quality for insurance and provide additional email security and training through Ironscales. You can read more from Ironscales here: Message from IRONSCALES.
And that's just a few of the things we do here at IT Horizons. If it's time to bring IT support to your business, let's chat! We'll review your current system and your needs and give you an honest analysis about how we can help.
Contact us today to get the answers you need for your IT questions!