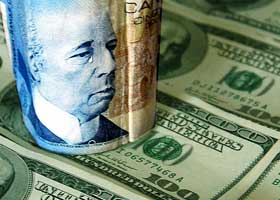 Believe it or not, there is a silver lining to the Canadian dollar's current volatility and overall dismal performance. Okay, if you're a Canadian business owner with US suppliers, the silver lining might be a little difficult to make out, but for international oil companies with operations in northern Alberta, that silver lining is blindingly bright because you're able to score a great discount on industry-leading IT support and solutions from us, at IT Horizons.
Let Our Loss Be Your Gain!
Oil companies with offices in Calgary, across Canada, the US and around the world often need hands-on IT support in the oilfield in northern Alberta, something which IT Horizons is trained and qualified to do. While oilfield companies with local or foreign headquarters will benefit by aligning themselves with our highly qualified team, many international oil companies have even more to gain now that the Canadian dollar is so low.
Our comprehensive service offering includes everything your company needs to get the most from your technology. Whether you're looking for someone to help you plan and implement a new project, install cabling, provide technical support, security and cloud solutions, or perform all the monitoring and maintenance for your technology solutions via a total IT service management package, we've got you covered. Plus, all of our technicians have oilfield experience and the equipment, training and certifications necessary to provide onsite support that's both safe and effective.
Lowering IT Costs in 2016 Just Got Easier
When a system goes down or it requires maintenance, someone at a desk hundreds or tens of thousands of kilometres away isn't going to be much help. With IT Horizons' onsite field support, a technician or team of technicians will be dispatched to your remote jobsite, camp or field office. Having this kind of on-location help reduces resolution times, improves your productivity and communication. Ultimately, those with access to the in-person IT support they need, when they need it, save money in more ways than one.
If you're ready to take advantage of this incredible cost-saving opportunity while reaping the rewards of thoughtfully applied, monitored and managed technology, get in touch with us. We'd love to discuss how it is that we'll add value to your operations.