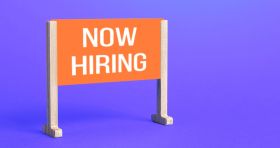 So you're thinking of hiring an IT consultant? Coming from our totally unbiased position (Note: we're totally biased), we think that's a great idea!
How an IT Consultant Helps:
Here are just a few ways an IT consultant can make everything better:
Receive professional IT advice and guidance that is customized for your needs
Advice to protect your data and your business' digital assets
Learn what technology you need to achieve your business goals
Learn how to put technology to work to achieve your business goals
Get the information you need to sort out your technology challenges
Feel confident that your technology is making your business better
OK, that's the general stuff. But is there anything special about having IT Horizons as your IT consultant? We're so glad you asked!
Outside Support Team vs Internal IT Support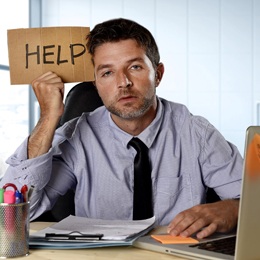 When we work with a business, we are your help desk! Call us… and get the help you need! We're available Monday to Friday, 8 am-5 pm, and we offer after-hours support.
IT Horizons specializes in managed services. This means that when you hire us, we become your in-house IT team. Sound expensive? Nope, we're more affordable than hiring an in-house IT professional to handle your needs, and you get the combined experience of over 50 years in the field with our core team.
There's another really important advantage to having an entire team on your side: things don't collapse if one person is suddenly unavailable. We've structured our company so there is always an expert to help you.
IT Consultants Deal with the Unexpected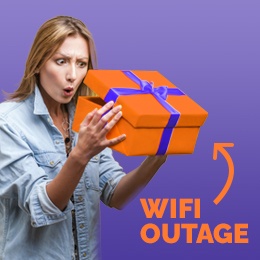 That means we've always got you covered. Even if there's a pandemic. Or schools close and everyone's suddenly enjoying life at home with kids crawling all over them. Yes, there will still be lots of challenges as a business owner, but having all the IT help you need won't be one of them.
As your IT consultant, we've got your back if you have any computer or network problems. Here's how that works: you call us, and a certified computer technician answers the phone ready to help. But remember, when you call us, you're not accessing one person: you're accessing our entire diverse team.
Break Through the 'New' Noise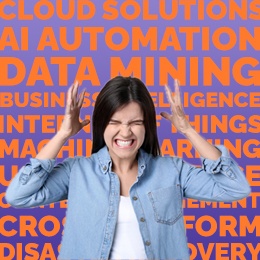 For many of our clients, the noise of newer, faster technology used to feel overwhelming and stressful. There's almost always a new IT 'must-have' coming available, and it can feel like you'll fall behind your competitors if you don't jump on board before they do.
An IT consultant evaluates the noise, identifies only the new tech that will help your business grow and improve, and saves you from purchases that will end up costing you more or are just not right for your needs.
When there is something new that's right for your business, we'll make sure your team is confident in how to use it, and it gets set up right the first time.
Give Your Staff a Break (from IT Problems)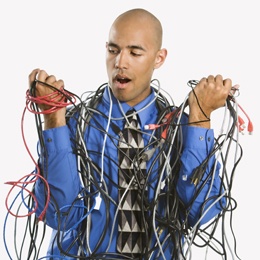 Have you ever had an IT problem that took an employee away from the job they should be doing (you know, the one they're really good at, and the one they were hired to do)? Has someone spent hours trying to retrieve important information that 'was right here the other day'? Has there been a moment—even just one—where you wondered if you should go back to pens, paper, and fax machines?
These are really good reasons to get an IT support team on your side. Every time your employees spend more time on IT problems than they do on their job, you're losing resources. We help save your sanity and save you the cost of lost labour!
Many Experts, One Team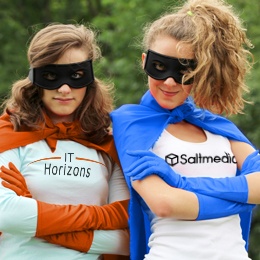 Our team brings a lot of skills to the table. When clients have big, challenging, complicated problems, we sit down and pool our skills and knowledge until we have the right solution. To date, we have never had an IT problem that we can't solve.
"Great!" You say, "but if you're that awesome, you can't possibly always answer the phone."
It's true, sometimes all our technicians are working together on the same problem. But we're fortunate to have an excellent solution in our partners at Saltmedia. They'll pick up the phone, make sure they have the important info about your problem, and forward it on to the helpdesk. Like we said, we've always got your back.
IT Fixes Explained in English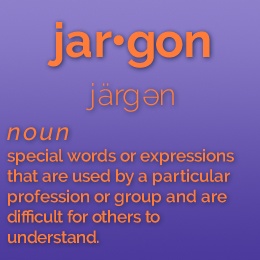 Now, maybe you've worked with a technician before, and even though they helped, you had no idea what they were doing (or why) because of all that technical jargon. Frustrating, right?
The IT Horizons team is super smart, but we're all very down to earth. We like to do complex technical stuff and then talk to you about it in plain English. So our clients feel like they're talking to real people (we are), not robots.
Not that we have anything against robots! We like to put technology to work for us. We've got a system that tracks every single service ticket, project, and tech. As soon as we connect with you, we're doing everything to make sure all your IT needs are covered.
We Become Experts in Your Systems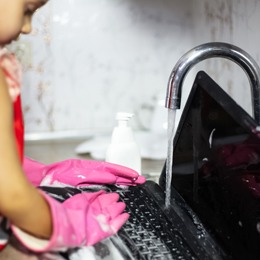 There's another powerful advantage to getting our team on board now, even if everything is running smoothly: we become experts in your business' technology. This doesn't sound very exciting. But if you're faced with a crisis down the road: like a natural disaster, or your sales manager's computer got a virus, or your toddler tried to give your laptop a bath, or you suddenly needed to switch your entire operations to work-from-home, we already know how your devices and network are set up, and we can immediately get to work creating solutions.
Having an IT support team on speed dial can be a lifesaver.
So, whether you need hardware support, software support, access to a trained and talented team when problems come up in the future, or IT solutions that will make your business more efficient and effective, the IT Horizons team is here for you. Give us a call now at 780-833-2566 or use our contact form to send us a note (or an SOS).