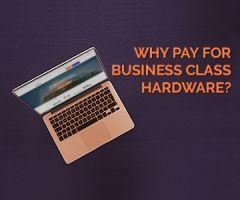 When helping our Grande Prairie clients plan their hardware lifecycle I'm often asked about the price difference between consumer and business class devices. If you can go down the street to Costco or Best Buy and pick up the latest back-to-school-special laptop for $500, why on earth would you spend two or even three times that amount for a business-line laptop from Lenovo or Dell? Here are some important points to consider when purchasing computers to make sure you're getting the best return on your investment.
In the Windows PC market, inexpensive home lines come with whatever low-cost surplus components are available to the manufacturer on the factory floor at the time. Because of this, the specifications change month-to-month or even faster and there can be wide differences in the nuts and bolts even within a single model of PC or laptop. This means that not only are you often getting the lowest quality components possible so the manufacturer can maximize profit, but you're getting them in scantily tested configurations.
Business class lines on the other hand are built from more carefully selected components in longer-lived and carefully planned lifecycles. It's frequently possible to buy the same model of computer with identical configuration and parts for 2 or even 3 years running. And because the manufacturers stand behind their business lines with stronger warranties and guaranties, they're tested and vetted more thoroughly.
Higher grade components and testing results in improved reliability and fewer failures. Unexpected hardware failures can cause significant loss of work and productivity which can be very costly to your business. While it's true that any computer can fail, years of experience has proven to us that business class systems are far more reliable.
Home lines usually come with 1-year warranties that often require many days or weeks waiting for computers to be shipped to and from the factory to be repaired or replaced. On the other hand, business-class warranties can cover your computer hardware longer (even up to their entire lifecycle) and can offer next business day parts and repair service. This is important in Grande Prairie and more rural areas in northern Alberta or the Peace Region far from major urban centers. You should keep in mind the cost of downtime and scrambling for a replacement.
Since business lines run for longer, you can standardize on a handful of carefully selected models so they meet your exact needs and are identical and consistent across your organization. Such consistency builds employee satisfaction, familiarity and trust from your team and can help minimize training issues or problems with confidence in technology.
Business class computers are right at home in your corporate network coming with the right version of Windows to play nice with the rest of your systems. You don't have to be stuck with a newer (possibly undesirable) or home version of Windows that came pre-loaded on the computer. Instead, we can specify exactly what operating system is optimal and standard in your business.
Think about these things when making your next round of computer purchases and it'll become clear that by spending a bit extra to invest in business class hardware you'll end up with lower total cost of ownership saving your business time and money.
Contact IT Horizons today at 780-833-2566 to start planning your business' computer hardware lifecycle.