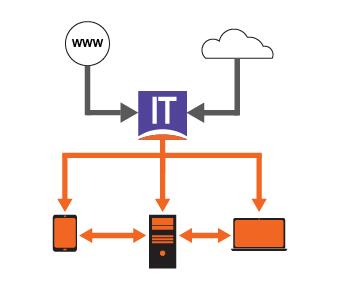 There are few things more frustrating than investing your money into something that will no longer be relevant in a few years. In the ever-changing world of technology, it doesn't take long for something to become redundant, or at the very least, incompatible with the other systems and devices that your business relies on, daily.
Whether your company uses a single network or depends on a highly complex IT environment to get things done, a well designed strategy is at the foundation of every successful network installation project.
Save Money with a Well Designed IT Infrastructure
Like most things in life, carefully planning your IT infrastructure is an essential step if you want to avoid needless spending. Many IT companies, like our own, offer planning or design services to ensure tech installations are performed in a way that's not only best for meeting the needs of a business or even a residence today, but will also remain the best possible set-up as those needs change and new technologies are added to the IT environment. Planning and making accommodations for your future requirements, before you even know what those needs will be, is an important part of any installation and a smart first step for comprehensive IT service management.
For any business that relies on technology, a network needs to not only be diverse but also up to date and capable of sharing information within the company and over the internet in the most secure manner possible. Bring your network up to speed with proven installation services from IT Horizons. Call us for more information.